News — Refresh and Declutter – Ready For a New Season
September is just around the corner and now is the perfect time to get organised for the new season ahead.
In this blog post, we look at some ways to refresh your wardrobe, declutter your home, and sort some back-to-school or office essentials. You'll find all you need at Rams Walk.
Revamp Your Wardrobe
As the seasons change it's the perfect time to revamp your clothes and accessories. Revitalise your wardrobe with key pieces such as lightweight layers and versatile accessories, that bridge the gap between comfort and style.
Mint Velvet – Khaki Cotton Trench Coat – £189.00
Accessorize – Beaded Leaf Drop Earrings – £12.00
Moshulu – Leather Ankle Boots – £120.00
Between The Lines – Seville Scarf Khaki – £22.50
Mint Velvet – Belted Cargo Trousers – £119.00
Accessorize – Classic Zip Around Backpack Tan – £30.40
The Edinburgh Woollen Mill – Floral Printed Dress – £40.00
Crew Clothing – Pointelle Stripe Cardigan – £65.00
Crew Clothing – Hoxton Wide Leg Trousers – £59.00
Mint Velvet – Black Tiered Mini Dress – £119.00
The Edinburgh Woollen Mill – Pink Printed Blouse – £30.00
Get organised and declutter
Whilst you're refreshing your look, now's the time to organise and declutter your wardrobe.
Decluttering needn't be a hassle; a top tip is to tackle one room at a time and organise items into three piles – Keep, Donate, and Bin.
Seasonal items, such as summer clothes and shoes, can be placed into storage that is easily accessible. This handy storage bag and Vacuum Storage Bag from Robert Dyas are great for taking up minimum space and can be stored easily under the bed or in the loft.
Robert Dyas – afb Home Grey Fabric Under Bed Storage Bag – £5.99
Robert Dyas – PackMate 2-Piece Large and Medium Vacuum Bag Set – £7.99
If you have piles of paperwork or old bills that are taking up space, have a sort through and shred any sensitive documents with this WHSmith's shredder. Then, file anything you need to keep in a stylish file or folder.
WHSmith – Black 7 Litre Straight Cut Shredder – £14.99
WHSmith – Wild Soleil 12 Part Organiser – £9.99
After the hectic summer holidays, reintroduce some self-care into your routine with The Positive Planner Daily Journal. Take yourself on a 12-week journey of self-care, mindfulness and daily positivity.
Between The Lines – The Positive Planner – £22.99
Make the first week back at school or work easy on yourself with COOK's Ready to Cook at Home Meals for 1, 2 or 4 people, from £5.50: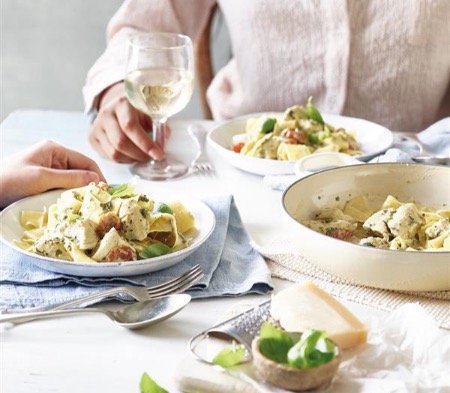 COOK – Basil & Marscapone Chicken – Serves 2 £8.95
Or for those first hectic days back at school, look at their Kids Meals Offer – 5 Kids Meals for £13.00.
COOK – Kids Macaroni Cheese – £2.95 or Choose 5 Kids Meals for £13.00
Back to School Essentials
As September approaches, the anticipation of a new school year fills the air with a mixture of excitement and readiness. Beyond the notebooks and textbooks, there are other essential items that make the back-to-school (or office) transition stress-free.
Robert Dyas – Thermos FUNtainer Lunch Kit – Floral – £10.49
Robert Dyas – Minecraft Sandwich Box – £10.99
WHSmith – Arctic Fox Pastel Blue and Pink Midi Backpack – £24.99
WHSmith – Pandarama Backpack – £6.99
Accessorize – Girls School Hair Bundle Set Red – £12.00
Robert Dyas – Korbond Care & Repair Laundry Marker – £2.29
WHSmith – Tie-Dye Double Zip Cube Pencil Case – £9.99
WHSmith – Erasable Colouring Pencils – £3.99
Prices are correct at the time of publishing.